LSPC offers 2 options for those who want to skydive.
Tandem Skydives
Minimal training or skill is required. This is a great option for those who want to experience 40 second freefall on your first jump from 10,000 feet. A tandem jump does count towards a license and qualifies you for a reduced price on the static line class if you are interested in becoming a licensed skydiver.
More Info
 Static Line Skydives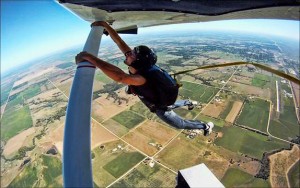 This is the real deal and is why LSPC exists! If you want to become a skydiver and/or want to learn what it is like to jump solo this is for you. Lincoln Sport Parachute Club is here to build the sport and train new skydivers to jump with us. Most of the members and instructors at LSPC began jumping using this method of training. This is a fun an informative class lasting around 8 hours and includes your first jump.
More Info